Wondering how you can help make an impact? We created a list of items that Welcome House and our clients are currently needing. Donate these items and see ways to help us in our mission to end homelessness.
DONATIONS DURING COVID-19 SITUATION
In our best effort to protect Welcome House clients, volunteers, staff, and donors during the COVID-19 situation, we are temporarily limiting our accepted donations to the essential items below, shelter meals, and financial contributions. We ask that all other donations please be held until further notice. These limitations do include Amazon orders as well – please only refer to this COVID-19 Essentials wish list. We also ask that all donation drop-offs please be scheduled with Sara Kahmann at (859) 292-9352 or skahmann@welcomehouseky.org. Please contact Sara if you have any questions as well.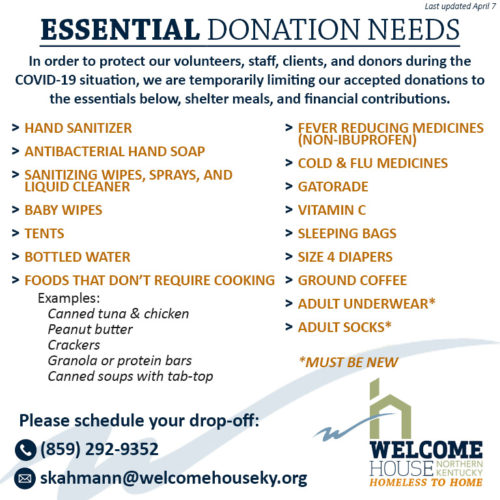 Amazon Wish List
Amazon wish list allows the Welcome House to create a comprehensive list of items that are very specific to a client's needs. For example, some of our clients cannot go to work without regulated shoes – which we can easily find on Amazon.  We use Amazon as a fast, convenient way for you to donate items with ease, and without ever having to load a vehicle or drive to the offices (although we always love meeting our donors)! Please take a look at our wish lists:
Medical Supplies Wish List (PDF)
Don't forget to sign up for AmazonSmile as well to choose the Welcome House as your receiving organization.
Resource Bags
At Welcome House, we want to provide the best service we can to our clients. It is important to us to make sure that if a client is living on the streets, they are given resources necessary to survive. If they are transitioning into stable housing, we want to ensure that they can make their house a home.
The Welcome House and the Welcome House clients rely on the kindness of our gracious donors to help provide the items necessary in order to provide safety, stability, and care.
With that being said, you're probably wondering what is a resource bag? We are working on a new, innovative way of thinking about donations and the items we desperately need – which are ultimately based off of what we hear from our clients and their needs.
Our goal is to acquire the necessary items and collect them into different "themed" bags so our direct service employees can distribute much needed resources to our clients with great ease and efficiency.
As a donor, you have two options to assist us with the Resource Bags:
Download the shopping list PDF, shop for selected items, and then re-create your own Resource Bag(s).
Download the shopping list PDF, purchase the items, and bring them to the Welcome House where the bags can be assembled by volunteers.
We welcome you to either option and appreciate your support in a new, innovative way of thinking. You are a key part in helping us end homelessness!
Resource Bag Options