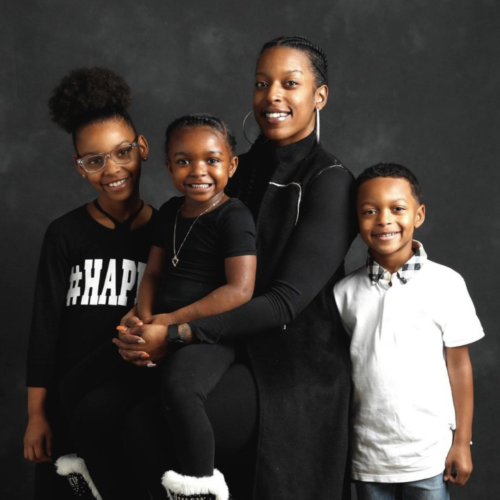 Jessica and her three children, Journei, Devy, and Davonni, came to Welcome House in July of 2019. Prior to seeking our services, Jessica and her beautiful family were relying on the hospitality of friends and relatives to stay with and, on occasion, sleeping in a hotel. When she met her coordinator, Andrew, they both were determined to set goals that would lead down a path of success. While at our Shelter for Homeless Women, Children, and Families, Jessica worked hard to stay in school, keep her kids achieving scholastic goals, and to find housing. "I just went into survival mode, I had three little people to look over," says Jessica.  
Today, Jessica has graduated from Cincinnati Cooks which is a program provided by the Freestore Foodbank and she is hopeful to continue her education to become a Chef at Cincinnati State. She is also well on her way to starting her future business called Everyone Loves Bacon food truck. But most important, Jessica and her children are living in their very own home.  
"Whatever I start I finish, I just can't wait to see what the future holds for my children and myself," says Jessica. "Faith helped me, I literally had nothing else, but I found the strength within."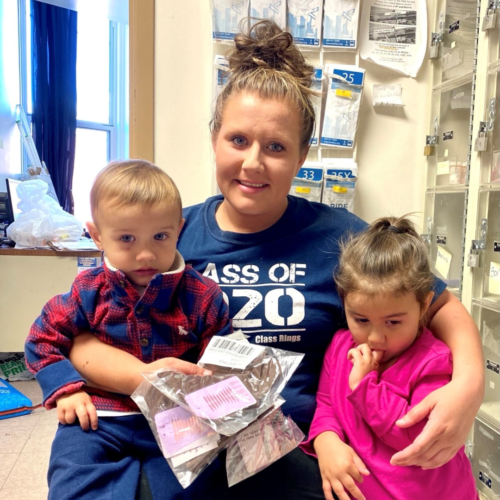 Tosha is a single mother of two children, aged 2 and 3. When she came to Welcome House, she had escaped from a domestic violence situation and had no place to go. After working hard with her Housing Coordinator to decide which part of town would be safest for her family, she was granted the financial assistance from our Rapid Re-Housing program to kick-start her new life. Tosha is optimistic that she can now focus on creating a happy and safe life for her family.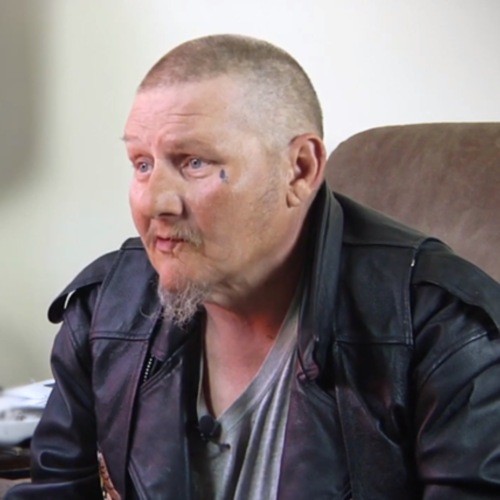 Earl, 57, was discovered by our Street Outreach Team, Open Door, in 2018. He had been living on the streets for over a decade. Earl is a United States Veteran who served overseas, and when he returned back to the states he fell upon hard times and ultimately became homeless.
When we found Earl, he was very ill, he had severe mobility issues due to a stroke, high blood pressure, and diabetes. Our Nurse Practitioner worked with him to help stabilize his health, while our outreach team provided him with housing options and access to veterans benefits. At the time, Earl was extremely afraid he wouldn't live another year.
Today, Earl is housed, his health has been stabilized because of the services he received from Welcome House, and most important, he is happy!
Amber was a victim of domestic violence which caused her to become homeless. She was referred to Welcome House for our Rapid Re-Housing program, which helps households who are on the streets or living in shelters pay for an apartment. Within a couple weeks, Amber and the Housing Navigator were able to locate a nice 1 bedroom apartment in Ludlow. Amber loved it from first sight; her first night at her new apartment, she made contact with the Housing navigator; sending a picture of her 2 month baby boy sleeping with the caption, "He has not slept so calmly like this in so long. It is nice to finally sleep in our own home. Thank you guys so much."
Tammy was living in Family Promise shelter for almost 2 months when referred to the Rapid Re-Housing program. Tammy had four children and a rough series of events leading up to her and her family becoming homeless, including a low paying job, evictions and past due utility bills. The agreed goal between Tammy and Welcome House was to find an apartment with all utilities included, but also hopefully enough room to comfortably house her family. The Housing Navigator reached out to a potential landlord that had an apartment that fit everything Tammy was looking for. Tammy explained her situation to the landlord, with a leap of faith that something would work out. The landlord was skeptical at first, and stated he would give us a call the next day with a decision. He called and stated he wanted to help Tammy succeed. Tammy and her family are still living in the apartment four months later.
Penny had been living in our shelter for almost 2 months with her four children when she was referred to the Rapid Re-Housing program. This program helps households who are on the streets or living in shelters pay for an apartment. Penny had some personal barriers (a health condition and a history of evictions) that were making it quite difficult for her to get housing. The Housing Navigator reached out to a potential landlord who had an apartment that was perfect for Penny and her children. Due to Penny's eviction history, the landlord required a double security deposit, which the Rapid Re-Housing program is able to provide. Finally, Penny received the phone call that she was waiting for – she was accepted for the apartment! On the day of the lease signing, she found herself speechless that this was finally happening and could not stop saying thank you to the landlord. Penny is now happily housed in her new apartment!
Three years ago, Sue and John were living on the street together. Sue, who suffered a stroke and was left by her family with no medical care, ended up homeless, alone, and disabled. John, who was also living on the streets and dealing with his own disabilities met Sue. At that point, they began their life together, taking care of one another and surviving the daily elements of being street homeless. Their love and bond kept them alive for years while they tried to seek shelter, food, and clothing.
When Sue and John came to Welcome House, we knew that they wouldn't survive much longer on the streets. To find permanent housing can take time, but with the hard work of our Service Coordinators we were able to find them the medical care, clothing, and resources they desperately needed. Welcome House was also able to get Sue and John on Social Security Disability Benefits, which finally gave both of them the much needed funds to find housing.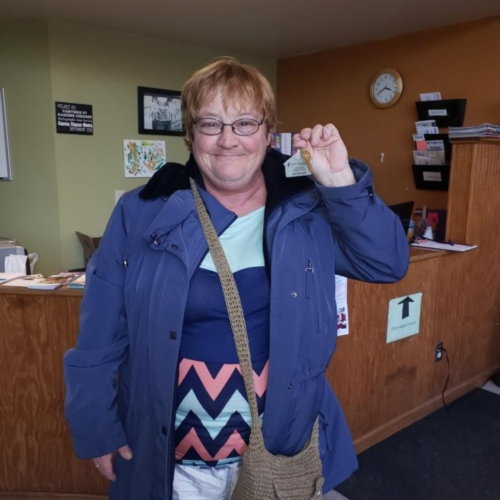 A few months ago, our Street Outreach team discovered Wanda living in an abandoned building. She had become homeless 7 years ago, when the friend she lived with passed away. She came into our shelter for homeless women and children where she lived for nearly 3 months while working with a service coordinator to pursue income and housing.
During her stay with us, Wanda became a bit of a mother-figure for the other shelter residents and took every opportunity to help those around her. Wanda deeply values human connections and this NKY community. If you've dropped donations off at Welcome House recently, she may have even helped carry your donations into the office.
Wanda has worked so hard to find a job and apartment of her own, we couldn't be more proud of her. We're so happy to see her starting 2019 with a home of her own and to have been a part of Wanda's story.
Geraldine came to our shelter in June with her 8-year-old son after fleeing a domestic violence situation in another state. She had never faced homelessness but was then living in her van with her son. A stranger told her about Welcome House.
Geraldine worked with a case manager who was able to help her find an affordable 2-bedroom apartment in a neighborhood where she wanted to live. She moved into her new home three weeks after coming to the Welcome House Emergency Shelter. Geraldine says, "God gives you what you need and I needed Welcome House."
The payee program assists people with mental and/or physical disabilities by direct management of their disability income. Through the Income & Benefits program, Welcome House acts as a payee for clients without an appropriate adult in their life to fulfill this role. Payees pay rent, utilities, and other monthly bills on the client's behalf.
Jermaine is a 35 year old man who was assigned to one of our service coordinators for Rapid Re-Housing assistance. He became homeless back in 2013 and the story we can piece together is that he didn't send in some paperwork to the Social Security Administration, so he lost his SSI check and then his apartment. He had been homeless ever since, staying at shelters when he could and living in the woods or laundromats when shelters were not available. We helped him get him a haircut, re-apply for SSI with help from another Welcome House program, apply for SNAPS (FoodStamps) as well as free phone so he'd have a way to communicate. He applied for an apartment with a landlord that is familiar with Welcome House and he was accepted. When Jermaine was told the news that he had an apartment, he cried. Welcome House staff continued to work with him on his SSI application and after several weeks he got his SSI check back. Jermaine was accepted into the Payee Program, so that program staff could help him manage his bill and make sure paperwork is completed so that he never becomes homeless again.
Welcome House's mobile homeless outreach team, called Open Door, has been active since July 11, 2017.  It is an interdisciplinary team composed of 3 members – a Kenton County/Campbell County outreach worker, a Boone County outreach worker and a Nurse Practitioner. Holistic street-based outreach has been a long standing gap that was lacking in previous iterations of outreach teams in the past. Having this understanding allows us to address not only housing, but also physical and emotional needs. Our goal is to bring emergency stabilization services to the aforementioned counties, and also plan to expand to the rural counties. The outreach team's priority is to spend time searching for those experiencing homeless as well as to build relationships with them as we address physical and emotional needs. Another priority where the team shines is our goal of educating and connecting community resources together. The team continues to knock down barriers by negating the transportation barrier by meeting the clients where they are at in the community.
Omer and his wife had been residents of Covington for many years before she passed away. His wife was his caretaker, so with her passing Omer became homeless, and has remained homeless for the last three years.
Omer has been trying his best to get back on his feet ever since he first became homeless. He has an income and a representative payee, but time after time his applications for supportive housing have been denied leaving him to resort to couch surfing and various shelters here and there.
When Omer finally came to Welcome House, we knew we had to find out why he was being denied housing. It turned out he had a past due utility bill from four years ago, and this was the reason that he had been homeless for three years – a debt of around $200 that he was unaware of.
Omer's service coordinator helped get to the bottom of this issue, his church stepped up to pay the outstanding balance, and we are hopeful that any day now he should be approved for housing.
Randall came to Welcome House in September 2018, one of our case workers found him sleeping in our lobby at our King's location. We soon came to find out that Randall was living on the streets but working throughout the night at a fast food restaurant. The only place he could get some decent sleep prior to his shifts was in our lobby. Fast forward to today and Randall is now part of our new Transitional Age Youth Program, which serves homeless youth between the ages of 18-24. We were able to provide temporary housing and all of the resources necessary for Randall to get back on his feet and move toward housing and employment stability. We are so excited to see what the future holds for this extremely funny, bright, and great guy! Stories like Randall's are all too common- often this age group is displaced or sent out of their homes once they turn 18 with no support or anywhere to turn.
When Charles first came through our doors, he was caught in a cycle of sleeping in various shelters and the streets, which made it very difficult for him to focus on the steps he needed to take to improve his situation.
From sunrise to sunset every day, he was in survival mode – "Where will I sleep tonight? Will I be able to eat today? Am I safe out here on the streets? Can I make it across town in time to get a bed at a shelter tonight?" was all Charles could think about. Finally, a friend told him to visit Welcome House to see if they could help.
Charles is a father of a beautiful little girl who he loves, but was only allowed supervised visitation with. This was his greatest motivation to turn his life around. After being assigned a case worker, we were able to help Charles get a home of his own, and he was connected to The Pier where he received educational training on mental health, budgeting, and more. Eventually he even became a peer support specialist!
Charles now has a place to call home, and has been approved for overnight visits with his daughter, which Charles considers a success. Small steps forward give us all hope that if we continue to work hard, that even greater things will come!
Grace was living with her father here in Northern Kentucky, and her mother was living in Tennessee. Last summer, Grace found out she was pregnant and her father kicked her out of their home.
Scared and vulnerable with no place to go, Grace reached out to her mom Linda. Linda immediately moved back to Northern Kentucky to be with her daughter, but they still had no place to go. They had been out on the streets for a couple of cold nights in December before they found out about Welcome House and came through our door for help.
We were able to get them both into our shelter immediately, and since then Grace and Linda have been incredibly motivated and hard-working, doing everything we have asked them to do. They were being denied housing due to someone running an energy bill up in Tennessee unbeknownst to Linda.
Sounds of Victory Church in Cold Spring offered to take care of the energy bill, and made sure they had plenty of supplies for the new baby on the way. St. John's Church in Covington helped with the deposit on their new apartment as well.
A sweet baby girl was born on April 9th, and today this mother, daughter, and granddaughter are happy and healthy in their own home thanks to their own hard work and many community resources coming together to make great things happen.
Help Us Create More Success Stories
When you donate to Welcome House, you are creating a future where a family will no longer have to worry about where they'll sleep at night, or where their next meal will come from. You are securing the future for the thousands of men, women and children we serve by taking them from housing insecurity to housing stability. Be a champion for ending homelessness by donating today.