Annual Household Shower
June 7, 2020
2:00-4:00pm
Lakeside Christian Church, 195 Buttermilk Pike, Lakeside Park, KY 41017
RESCHEDULED SHOWER INFORMATION:
JUNE 7, 2020
Drive up & drop off
any time between 2:00-4:00 PM
Lakeside Christian Church
195 Buttermilk Pike
Lakeside Park, KY 41017


Most of us are familiar with the tradition of holding a household shower for couples about to be married.  Family and friends get together bearing gifts to provide the essentials of starting a home.  The Welcome House Outreach (WHO) is a vibrant, compassionate group of women that have given new meaning to this tradition every spring for the last 20+ years.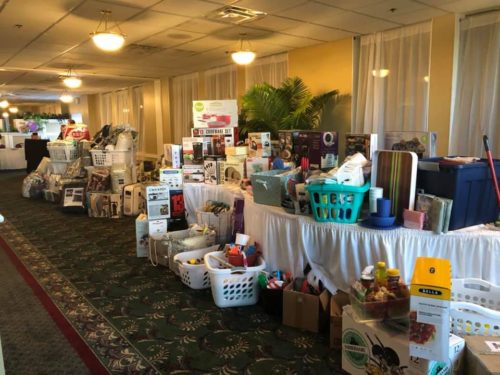 The annual WHO Household Shower started out in people's homes and has grown to over 200 in attendance.  Guests are asked to bring gifts that include household cleaning items, bedding, towels, dishware, and household cleaning supplies. So who is the bride, you ask?  No bride.  The recipients are families moving out of transitional housing, such as Welcome House's Shelter for Homeless Women and Children, into their own home.
It is a sight to behold as all the gifts gather the night of the event.  It is truly amazing what the collective generosity of people can do to make a difference in other people's lives.  The gifts are distributed by Welcome House and as families move into their own home, they are provided basics for their households to begin again.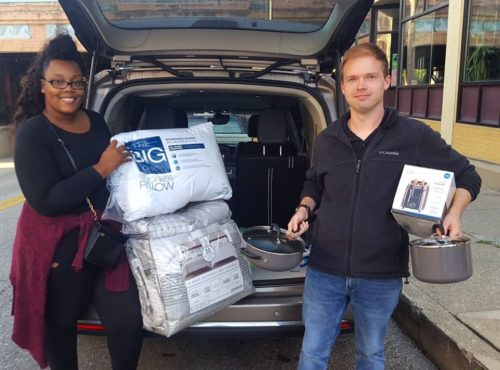 In 2020, we have adjusted the event in order to practice safe social distancing during COVID-19. On Sunday, June 7th from 2:00-4:00PM, we are still offering the chance to change the lives of the women and children transitioning into stable housing by way of a drive-up donation collection of new home items. All staff and volunteers will be practicing social distancing and wearing masks. We will be happy to accept donations however you feel most comfortable – we can remove gifts from your trunk, you can place your gift outside your vehicle yourself, or we can accept gifts by hand and will sanitize accordingly.
Drive up & drop off a new, unwrapped shower gift! All gifts benefit families transitioning to stable housing.
All drive-up guests will be entered into a raffle for a surprise gift!
Most needed items: pots and pans, dish sets, utensils, coffee makers, crock pots, comforter and sheet sets (Twin-Queen), pillows, air mattresses with pumps (Twin-Queen), bath towels, shower curtains and shower curtain rings, laundry baskets, household cleaning supplies.
For more ideas, refer to the online "new home" wish list here! To purchase from Amazon and ship directly to Welcome House, check out our Amazon Wish List! If you have another favorite online store, any online donation orders or gift card donations may be shipped directly to Welcome House using the following address:
Welcome House of NKY
ATTN: Donations
205 W. Pike St.,
Covington, KY 41011
Want to donate another time? Contact Sara Kahmann to coordinate a drop-off! Due to COVID-19 the hours available for donation drop-offs are varied. Please reach out to Sara at skahmann@welcomehouseky.org or (859) 431-8717 to coordinate.
Or make a financial contribution here!
No RSVPs needed!
Previously purchased tickets:
The full amount of any previously purchased event tickets for the 2020 Annual Household Shower may now be considered a tax-deductible donation. We are grateful for your support!
Refunds are available upon request for previously purchased event tickets. All refunds will be made by check.
For more information or to request a refund, contact Sara Kahmann at 859-431-8717 or skahmann@welcomehouseky.org.