Social Security and Benefits
Helping clients obtain income to move toward stability.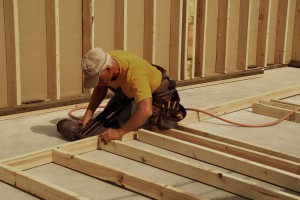 The Social Security and Benefits Service Area includes a Representative Payee team and a Social Security Outreach team that helps clients gain income and mainstream benefits.
Below is a description of these services Welcome House provides to clients.
Representative Payee Program:
This program assists people with mental and/or physical disabilities by direct management of their disability income. Given their disabilities, clients do not have the capacity to manage their monthly bills themselves. Through the Income & Benefits program, Welcome House acts as a payee for clients without an appropriate adult in their life to fulfill this role. Payees pay rent, utilities, and other monthly bills on the client's behalf. The Social Security Administration requires that some people receiving disability have a payee. Without a payee, the client cannot receive disability income or medical coverage.
Overall results of the program focus on improved quality of life and stabilization of a vulnerable population. Client's transition from living on the streets with debilitating illnesses to having an income, housing, a medical home, and the support necessary to lead a more independent life.
2015 Outcomes:
100% of 97 households maintained housing
100% of 97 households developed a budget and savings plan
Of the clients who were in the program for two or more years, 99% of 86 households maintained housing stability and 72% had a savings of at least $900 ( above national average)
Social Security Outreach (SSO):
The Social Security Outreach program is designed to increase access to Social Security Benefits for eligible adults who are experiencing chronic homelessness and homeless veterans who have a mental illness and/or a co-occurring substance use disorder.
Social Security Income/Social Security Disability Income Outreach, Access, and Recovery (SOAR) is a program designed to increase access to Social Security for such eligible adults.  With its roots in a 1993 one-year demonstration project in Baltimore, MD, the SOAR program has now helped over 31,000 individuals nationally obtain much needed income benefits.  In addition, individuals who are awarded SSI receive Medicaid, while individuals who are awarded SSDI receive Medicare. Thus, the monthly income from SSI and/or SSDI allows these individuals to end their homelessness by obtaining housing, while the accompanying health benefits allow them to receive health care that may not be available to them as uninsured individuals. In July, 2016, Welcome House was awarded funds under the Cooperative Agreement to Benefit Homeless Individuals (CABHI) to provide Social Security Outreach services in the community. The purpose of this jointly funded program is to enhance or develop the infrastructure of states and their treatment service systems to increase capacity to provide accessible, effective, comprehensive, coordinated/integrated, and evidence-based treatment services; permanent housing; peer supports; and other critical services.
2016-2017 expected outcomes:
Assist at least 10 chronically homeless individuals or homeless veterans, who also have mental health and/or substance abuse issues to access SSI or SSDI benefits.
Provide technical support and training to grant partners and areas statewide served through the CABHI grant