COVID-19 Updates
NEED HELP? If you are experiencing homelessness and need our services, please call the main office at (859) 431-8717 or fill out the contact form here.
Click here for a list of local kitchens, pantries, shelters, and other resources being regularly updated by the United Way of Greater Cincinnati.
What we are doing
A LETTER FROM OUR CEO, DANIELLE AMRINE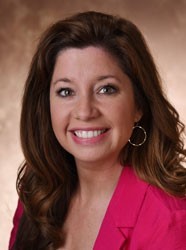 There are at least 2,000 homeless citizens living in Kenton, Boone and Campbell counties. Aside from being the right thing to do, addressing the needs of our homeless citizens is a critical link in the chain to limit the scope and speed of the virus's spread. Researchers say that if COVID-19 reaches the homeless, it would present a potentially fast-moving hazard – both to those living in encampments as well as those living in our shelters, outreach workers, nearby residents and health providers.
In response, Welcome House has implemented its infectious disease protocol. Our shelter is on lockdown, our Kings Crossing location is shut down and services are being provided out of our 205 Pike Street building in a limited capacity. 70% of our staff are working from home. We are utilizing hotel rooms for clients that have compromised immune systems and are at the highest risk. We are also trying to utilize hotel stays to get families who are on the streets off the streets. We have partnered with registered nurses from NKU to provide testing for shelter clients and staff and to treat anyone with symptoms to help lessen the strain on our healthcare system.
Externally, we are working closely with homeless-related organizations as well as county and city officials and health departments to implement a coordinated response. We have offered our Garden Center in Covington as an isolation or quarantine facility. Welcome House Street and Medical Outreach teams are still going out to camps and other areas to check on people and take temperatures; if they encounter someone with symptoms, the NKU RNs can test them. We are distributing critical supplies that include hand sanitizer, emergency blankets, and packs of food, and providing handouts and education.
In the weeks and months ahead, Welcome House and its partner organizations will require food and supplies of every kind. If you are interested in donating funds and/or supplies, please find more information below..
Thank you for your interest in and concern for our homeless citizens. We are truly all in this together.
Danielle Amrine, CEO
IN THE NEWS:
Click here to see Danielle Amrine's interview with WLWT5 on how we are preparing for COVID-19.
Click here to read The Enquirer's article about the emergency homeless shelter taking place at the Northern Kentucky Convention Center.
Click here for the WCPO coverage of the emergency shelter taking place at the Northern Kentucky Convention Center
How you can help
Donate emergency funds
During this unprecedented, unpredictable crisis, your support will ensure that we are able to provide for and serve every man, woman, or child that is homeless, exposed, and vulnerable.
Click here to make an online contribution.
Checks may be mailed to:
Welcome House of Northern Kentucky
205 W. Pike St.
Covington, KY 41011
For questions or more information about financial support, please contact Kelly Rose at krose@welcomehouseky.org or (859) 431-8717.
Donate supplies
Below is a list of our essential donation needs. We ask that all other donations be held until further notice (with the exception of Shelter meals). We ask that all donation drop-offs be scheduled with Sara Kahmann, who is available at skahmann@welcomehouseky.org or (859) 292-9352 (please leave a voicemail).
ESSENTIAL DONATION NEEDS:
Hand sanitizer
Antibacterial hand soap
Sanitizing wipes, sprays, and liquid cleaner
Baby wipes
Tents
Bottled water
Foods that don't require cooking (for example, canned tuna & chicken, peanut butter, crackers, granola & protein bars, canned soups with tab-top, etc.)
Fever-reducing medicines (non-ibuprofen)
Cold & flu medicines
Gatorade
Vitamin C
Sleeping bags
Follow and share on social media:
By following us on Facebook, Instagram, and Twitter and sharing our posts, you can help spread the word about our needs and help connect us to others who may want to help too!
Use this image to share the essential needs list with your network: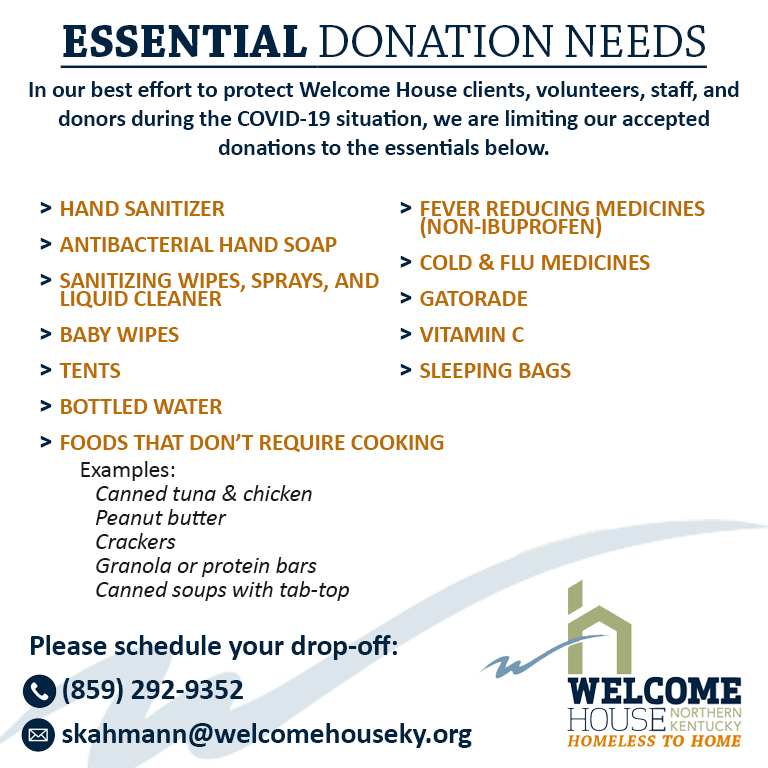 Volunteering – temporarily on hold
In order to protect our volunteers, clients, staff, and donors, we have temporarily put all volunteer activities on hold. If you are interested in volunteering when we resume regular volunteer activities, please complete the volunteer application form here and we will keep your information on file.