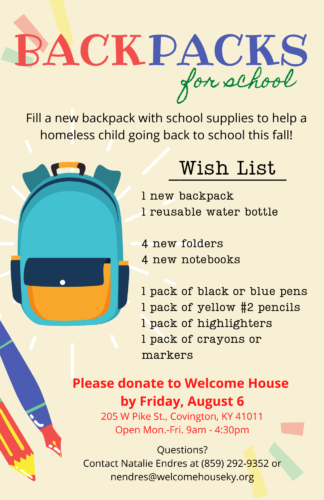 Having necessary school supplies helps set children up for success by providing the structure needed to focus on and engage in their education. Many of the families we serve cannot afford school supplies, which can leave students unprepared and insecure, as well as put pressure on teachers to fill the gaps for their many students. With your help, we can make sure that every child we serve is set up for success!
Back-to-School Wish List:
1 new backpack
1 reusable water bottle
4 folders
4 notebooks
1 pack of black or blue pens
1 pack of yellow #2 pencils
1 pack of highlighters
1 pack of crayons or markers
We ask only for these basic supplies, but welcome any additional supplies that you may wish to include, such as calculators, flash drives, homework planners, etc.!
Please return all school supply donations to the Welcome House main office at 205 W. Pike St., Covington, KY 41011 on or before Friday, August 6th. The office is open Monday-Friday from 9:00am-4:30pm.
Questions? Contact Natalie Endres at nendres@welcomehouseky.or (859) 431-8717.
Welcome House is proud to partner with Children, Inc. to maximize the impact of your donations. If we are able to collect 100 backpacks, all of the children served by both agencies will be able to start the school year off on the right foot.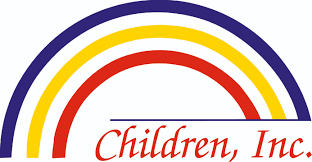 Children, Inc. provides innovative programs to grow knowledge, skills, and strengths that allow families, children, and communities to flourish. Their multi-generational approach to fighting poverty in our community as well as their work in advocacy, training, and research builds a strong foundation for success for over 3,000 children and families in our region every year.