Spooky Secrets Tour
October 24, 2019
5:30-10:00 PM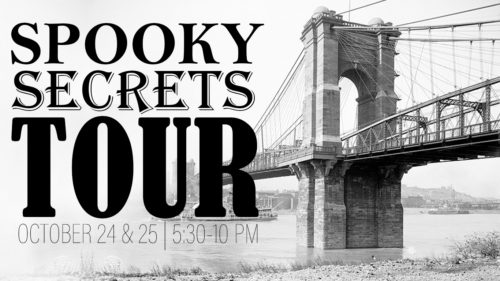 Join the author and photographer of Secret Cincinnati, Kathy and John Witt, on a Spooky Secrets Tour along  the shadowy streets of Northern Kentucky. You will have a close encounter with some creepy and fantastical secrets from the book, Secret Cincinnati, and learn a few new secrets, as well! Proceeds from this tour will benefit Welcome House NKY.
Tour highlights:
Second Sight Spirits – Sample the spirits during a tasting or choose one of their signature cocktails, such as Spiced Premonition or Swami's Mojito. Dinner from Buck's Smoked BBQ is optional and can be pre-ordered.
Behringer-Crawford Museum – Examine weird and mysterious artifacts from the permanent collection.
Hail Dark Aesthetics – Enjoy shopping time for the darkest and creepiest merch this side of ghastly.
Falcon Theatre – Experience a tarot card reading from Tuscarora Moon about the history of the building and munch on fresh-baked Evil Eye cookies.
Riverside Drive Statue Tour – Listen as Jill Morenz from the NKY Public Arts Network spins ghost stories about Capt. Mary Greene and some historic houses in the neighborhood.
Roebling Point Books – Sip a delicious coffee drink (as a new secret is revealed). Pick up your free copy of the book, Secret Cincinnati, get it autographed by author Kathy Witt and receive a check-as-you-go bookmark to record your adventures.
Ride in comfort with coach transportation.
A donation to Welcome House is included in the cost of the ticket.
Special pre-sale going on now for Welcome House supporters!